CAT6A shielded SLIM Patch Cable - FLAT
Unleash the Power of Speed: Introducing our High Performance Flat Patch Cable!
In the world of networking, speed is everything. That's why we understand that 10 Gigabit applications require more than their 1 Gigabit counterparts. Our state-of-the-art flat patch cable is designed to meet the extraordinary technical demands of 10 Gigabit deployments, ensuring unparalleled performance and reliability.
Equipped with superior shielding for each pair, our cables go above and beyond to maintain signal integrity. Compliant with the stringent Channel Category 6A standard of ISO/IEC and EN50173, our cables meet the highest industry benchmarks to ensure your network delivers exceptional performance.
Power-over-Ethernet transmission? We've got you covered. Our cable supports this advanced feature, giving you the flexibility to power your devices effortlessly.
Experience convenience like never before with our specially designed plug. With user-friendly push-button operation and a sleek, compact design, connecting your devices has never been easier or more efficient.
Upgrade your network today with our high-performance flat patch cable. Embrace the future of speed, reliability and innovation. Your network deserves nothing less.
Customers who place their trust in our products: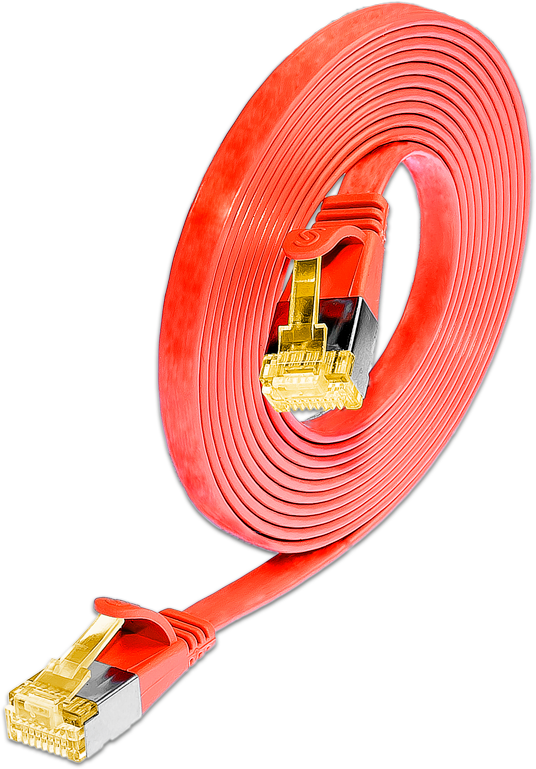 only 1.9 mm high and bendable by 90 degrees.
through SLIM Design and better overview
AWG32 Wires made of High Quality Copper.
.
FLAT,
FLEXIBLE
AND
10 GBIT
The SLIM-Patch Cable.
The dream of every IT technician, network administrator,
mechatronics engineer or building systems engineer:
No cable clutter, cable jams, and so-called "cable management".
Highly flexible network cables make this dream a reality.
The Comparison shows the Difference.