SLIM
LIGHT

KAT6A shielded
CAT6A shielded SLIM Patch Cable - ROUND
The Ultimate Patch Cable Experience.
Our flagship patch cable is more than just a cable; it's a testament to innovation and performance. Prepare to be amazed by what it has to offer:
Unmatched flexibility
Amazingly slim design
Breakthrough performance: 2.5 / 5 / 10 Gbps
Rugged shielding for uncompromised security
Flame retardant LSZH jacket for enhanced safety
Indestructible jack: Bend it a thousand times
Designed to exceed expectations, our cables meet the Channel Category 6A standard as defined by ISO/IEC and EN50173, setting the gold standard for network excellence.
Now let's talk about the game changer: the indestructible jack. Imagine a plug that bends and flexes without faltering, adding an extra layer of protection to your critical IT infrastructure. Your peace of mind is guaranteed.
Welcome to a new era in networking with SLIM® brand CAT6A LIGHT Patch Cables. These sleek marvels redefine patching for 10 Gigabit applications with their amazingly flexible and thin design.
Impeccably round, intricately twisted and fully shielded, our LIGHT Patch Cables rise to the demands of 10, 100, 1000MBit and the blazing speeds of 10 Gigabit.
Safety meets style with a flame-retardant outer jacket, while our unique RJ45 plug ensures your jack stays intact no matter what the strain.
There is even more! Power-over-Ethernet transmission? Absolutely!
Experience the effortless push of our specially designed plug in a sleek and compact form factor.
Elevate your potential. Choose the unmatched patch cable that redefines excellence.
Customers who place their trust in our products: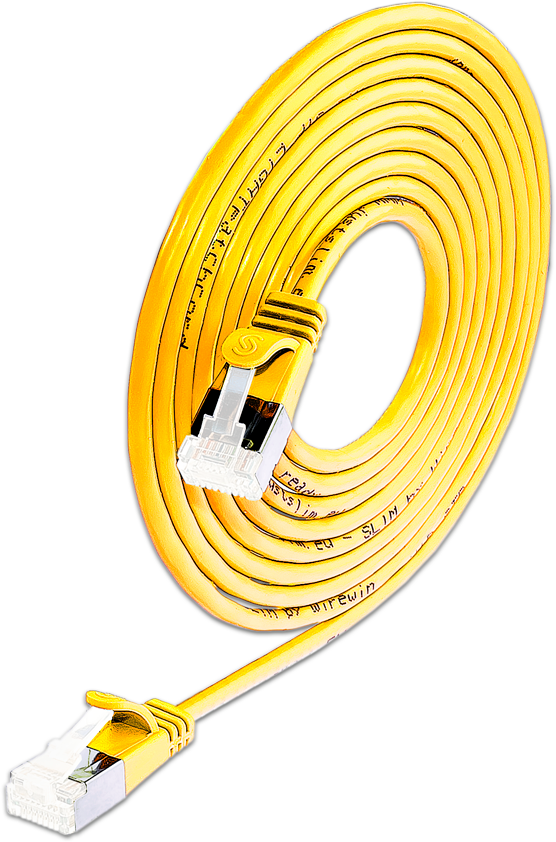 only 3.8 mm in diameter and extremely bendable.
through SLIM Design and better overview
AWG36 Wires made of High Quality Copper.
.
10 GBit im SLIM Outfit
The SLIM-Patch Cable.
The dream of every IT technician, network administrator,
mechatronics engineer or building systems engineer:
No cable clutter, cable jams, and so-called "cable management".
Highly flexible network cables make this dream a reality.
The Comparison shows the Difference.